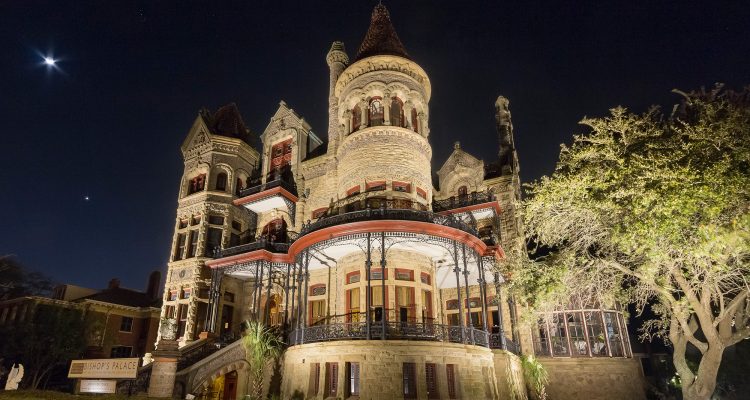 Bishop's Palace, also known as the Walter and Josephine Gresham House, is one of the island's best known and most popular tourist attractions. Bishop's Palace is recognized as one of the nation's most important late 19th century Victorian residences. Nicholas Clayton, Texas' most accomplished architect of the period, designed the house for the Gresham family.
In 1921, Galvestonians raised money to buy the house for the Galveston-Houston Archdiocese to make it the home of Bishop Byrne. GHF purchased the property in 2013 from the Galveston-Houston Archdiocese. The foundation is the third owner of the property and assumed management in 2007. It welcomes over 65,000 local, national and international visitors each year.
Experience Bishop's Palace in a whole new light, the moonlight, on their upcoming Full Moon Tour. This special tour lets visitors explore the National Historic Landmark and see how this architectural gem takes on a completely different look in the moonlight. The tours will be held on September 13 at 8 p.m. Tickets are $30 per person and are limited to the first 30 people. Bishop's Palace is located at 1402 Broadway.
Whether you're buying or selling, please contact James with all your Houston, Clear Lake, Memorial, Spring Branch, Energy Corridor, Tanglewood, Galveston, within the Loop and Katy Real Estate needs. We're here to help! You will always receive the professionalism and experience you deserve! Call us at 409-256-1274. Check out our listings and other information on our website: http://www.TheSeligGroup.com/.
Oh, by the way… If you know of someone who would appreciate the level of service I provide. Please call me with their name and business number. I'll e happy to follow up and take great care of them.